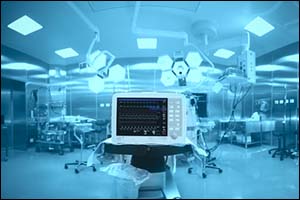 Finding just the right industry solutions that help you to keep things in order and under control is important, whether you deal in leased or rented medical equipment directly to patients or you provide medical equipment sales to practices, clinics and hospitals. Professional quality stickers, tamperproof labels, serial number tags and more, can all be used to help keep track of assets, ensure proper inspections have been done, and assist you in providing your clients with quality products. While they may seem small, barcode stickers and decals, along with other printed tools, play a huge part in asset management and are a great way to keep everything under control.
Serial Number Tags
One product that gets used a lot for medical industry solutions are our high quality, serial number tags. Designed to be used across many different industries, thanks to their durable, sub-surface printed materials and aggressive adhesive, these serial number tags are made from the most durable construction available and are designed to out-last the products that they will be affixed to for your industry-related business. Each and every product is printed using custom graphics and an unlimited selection of colors, placed underneath a glossy or velvet Lexan® (polycarbonate) finish for long-lasting results. Add your own series of consecutive serial numbers, barcodes or other custom options to any of our serial number tags and other professional quality stickers.
Our adhesive backing has earned a nickname due to its amazing ability to stay put. Known throughout the industry as "aggressive adhesive," it has been engineered to last for the life of your product. It is resistant to chemicals and abrasives in addition to the other material applications used by Nameplates For Industry (NFi) to make all of your serial number tags and decals both waterproof and weather proof.
Serial numbering can be added to all of our other product offerings including plastic labels, barcode stickers and decals, graphic overlays, custom nameplates and UL-rated labels. It can also be used with our metal nameplates, tamperproof labels, aluminum tags, photo metal processing and imprint-able label options. Serial number tags and products can come in a variety of finishes to meet your specifications and requirements, including matte, metallic, velvet and glossy.
Barcode Stickers and Decals
Another helpful tool that can be used in the medical industry is the addition of barcodes or QR codes to professional quality stickers and tamperproof labels. Barcode stickers and decals are used regularly by many different industries to enhance a company's ability to track assets and provide information during inventory inspections and audits. At Nameplates For Industry (NFi), we have the ability to incorporate barcode labels into just about any design. Our clients are able to create a unique branded image, including logos, special company colors and text, on a variety of different materials, including the popular Mylar® (polyester) and Lexan® (polycarbonate) options.
Choose from a wide variety of options to make your own custom labels, nameplates and decals. Combine your barcode stickers and decals with property tags, tracking IDs, UPC codes, warranty IDs, certifications, model numbering, and even 2-D barcode symbologies like QR codes to provide even more information. Choose to add serial number tags as well, including random numbers, sequential numbers, specified data or single digit barcodes. Select from a range of engineered adhesive options, including our popular aggressive adhesive, which exceeds the industry standard to allow your professional quality stickers, nameplates and labels to be applied on just about any type of surface.
Our barcode stickers and decals are printed on our subsurface materials, making them resistant to abrasives and chemicals, recognized by UL and CSA guidelines, waterproof, weather proof and excellent for any industry in just about any type of condition or situation. Rated for use indoors and outdoors, our professional quality stickers can be used anywhere you need them to be.
Custom, Professional Quality Stickers at NFi
If you are interested in learning more about all the ways that you can put our top quality barcode stickers and decals to work for your medical industry business, contact Nameplates For Industry (NFi) by calling 1-800-999-8900. Our experienced and helpful customer service team can help you find the best solutions to help you keep track of your assets and take your medical business to the next level. Choose from a wide array of serial number tags, tamperproof labels, nameplates and other great professional quality stickers and products to create a truly customized system. Call today and get a FREE estimate on our services or use our online request form to submit your order right now.