Be Safe – Stick with Us!
Safety Labels Dramatically Reduce Accidents & Reduce Liability & Insurance Costs!
That's right – from manufacturing your own products, to utilizing equipment and machinery - the proper use of well-designed safety, instructional & warning labels adds to a company's bottom line! Safety labels significantly reduce accidents, improve a product's overall safety record and have an impact on liability and insurance cost reductions across the board.
If your company manufactures or utilizes machinery and products that have potential hazards associated with installation, use, maintenance and/or disposal, you will need to have
effective safety labels
. So, how do you accomplish this? NFI can help! As a graphic solutions printing company - we are experts in this area!
At the NFI company headquarters, we have large machinery operating daily with a variety of inks, tools and various equipment. As a company, we are committed to safety for both our employees and our customers. One of the most important ways we achieve this is by
well-designed, high-performing labels
. NFI just celebrated
300 days of Safety in June
. Something we are very proud of as we strive to help other companies and organizations achieve the same goal.
The NFI Team Celebrating 300 Days of Safety during June 2016's Safety Month! Learn more about Safety Month at the National Safety Council.

HELPFUL TIP: OSHA Safety Color Coding Guidelines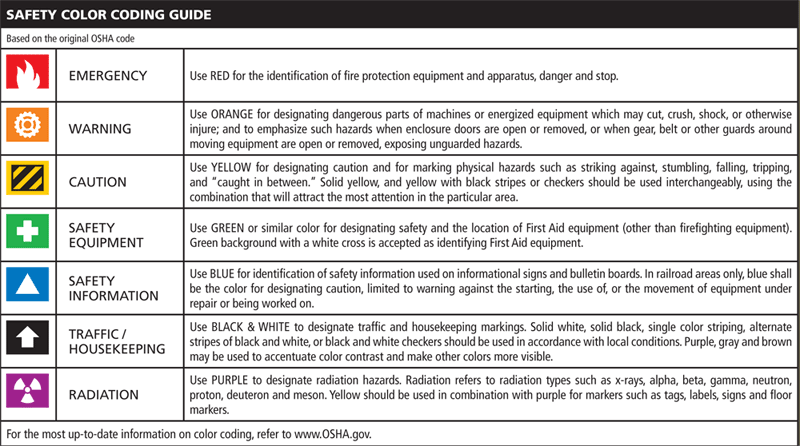 ---
WHAT TYPE OF LABELS DO I NEED?
MANUFACTURERS have obligations to meet or exceed the most recent versions of standards related to your product at the time it is sold in the marketplace. For machinery manufacturers who are selling their products globally, compliance with global standards is a requirement.
ENGINEERS have the dual task of focusing on product design and safety.
Identifying hazards and risks
during the product development phase is a crucial step in the product life-cycle.
As an authorized supplier, NFI manufactures a variety of safety & warning labels that comply with the latest up-to-date requirements and guidelines that you will need to demonstrate to customers, retailers and/or end users that products have been certified to applicable standards by one or more of these organizations:
These organizations publish best practices and requirements that place an emphasis on using well-designed, effective safety labels and symbols that convey a clear message and documentation to the world that you are a safety-conscious company that uses the latest standards-based methods to reduce risks and save lives.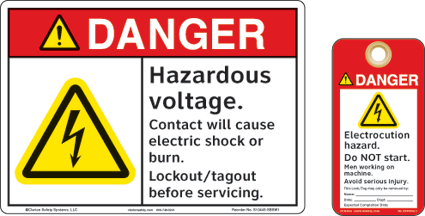 NFI specializes in manufacturing high-performing safety, instructional & warning labels. These labels are one of your products most important visible components. We are experts at helping you achieve a strong safety record, compliance with strict industry standards and a successful launch of your product into the marketplace. Most importantly, when your products and equipment are labeled correctly, you are reducing accidents and improving the quality of people's lives.
We offer a Prototype Program with guaranteed fast turnaround. Need several different types of labels for one product, machine, or vehicle? We can create an affordable Bundle package with everything you need! Not sure what you need? Order our FREE samples to view options on design, material, adhesive and we will follow up to answer any questions.
Ready to go? Request a Quote and an NFI team member will get in touch!
Or give us a call at 1-800-999-8900 & experience our exceptional customer service!