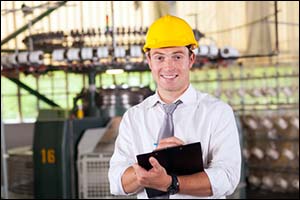 Perhaps one of the most diverse industries that we serve is industrial manufacturing. The creation of merchandise for sale, either to other professional businesses across many different industries, or direct to consumers, requires a lot of skill in taking raw materials and transforming them into finished goods. Industrial manufacturing takes the basic idea of manufacturing items and puts it on a much larger scale. As a result, many of our custom stickers and labels, as well as other products, are used to help these businesses keep control over industrial production, as well as marketing and sales to wholesalers, retailers and end users.
Regardless of the state of the economy, there will always be a need for industrial manufacturing. While trends come and go, there are still certain items that need to be created and manufactured for the benefit of the people. Government regulation often requires the use of industry labels to inform or warn consumers about the products that are being created. This is just one example of how custom nameplates and panels, as well as other custom tools, can be used to a company's advantage. From self laminating labels to marketing tools, aggressive adhesive nameplates to serial number tags for asset tracking, Nameplates For Industry (NFi) strives to provide our clients with the very best.
Top Options for Industry Uses
While just about all of our professional products could be utilized in some way, shape or form within the industrial manufacturing industry, we are going to go over just a few and provide examples on how they could be used to a company's advantage. Custom nameplates and panels for industrial equipment, custom stickers and labels for marketing and product identification, self laminating labels for inspections and safety checks, as well as a variety of other industry labels can be used as custom tools to help streamline the process.
Self Laminating Labels - One of our most popular tools used by industrial manufacturing businesses is our patented one-part self laminating label. Our Capturite® Self Laminating Labels help businesses write in a variety of information that can be used to enhance their business management. Some companies use this to record calibrations or inspections of equipment instead of regular industry labels. The self laminating system allows them to write in information and store it for future inspections or use, providing instant access to recorded information. Also used by industrial manufacturing companies to write in data regarding equipment warranties, performed maintenance, service due information, and even installation of new equipment or parts. These Capturite® labels are used in an unlimited number of ways and are very popular with our clients.
Our Capturite® labels are created using a clear, protective Mylar® laminate layer for the purpose of adding and recording variable data. These products can be created using a white or silver Mylar® base material, making them resistant to most abrasive and chemical exposures, and are also waterproof. Our 3M adhesives allow these industry labels to be affixed to a variety of surfaces, including powder coated finishes and even LSE plastics. Great for indoor and outdoor applications, they can include text, graphics, logos and even sequential serial numbers, and can be created in sizes ranging from one-inch square to a four-inch by six-inch rectangle.
Apply-a-Print® Products - Another innovation at Nameplates For Industry (NFi) is our Apply-a-Print® solutions, which can be used as an alternative to silk screening, pad printing, or hot stamping to affix company logos, product names and other information to industrial manufacturing products and equipment. One of the biggest draws to our Apply-a-Print® solution is that it can be applied easily without the use of any special training or tools. Graphics can now be applied directly to most surfaces and can come in an unlimited number of design and color options at remarkably thin (.002") design specifications.
Our Apply-a-Print® products are made with a surface that has been specially engineered to increase the long-lasting durability for the industrial manufacturing industry. The special surface coating also helps to create the illusion that the image was printed directly onto the product, which produces a very high quality and professional result. Apply-a-Print® is so popular, chances are very good that you have already seen it in-action on products manufactured by top brands.
Trust NFi for Top Quality Industry Labels
If you are in the market for custom nameplates and panels, stickers and labels, or our specialty Apply-a-Print® and Capturite® products, give us a call at 1-800-999-8900 and get a FREE estimate on any of our products. Ask about our Prototype Program and other opportunities that can help industrial manufacturing companies and business across many other industries benefit from the many years of knowledge and experience here at Nameplates For Industry (NFi). Call today and speak with one of our friendly customer service agents to get started designing your custom industry labels and professional products.