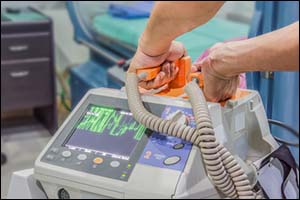 Companies that provide services for the medical equipment industry, either through maintenance services or by providing medical equipment leasing and rentals, need to be aware of changes that are occurring in the healthcare industry. It is more important than ever before to keep accurate and up-to-date records of all services performed on medical equipment according to industry regulations. For example, new standards were implemented recently regarding medical equipment maintenance, changing the way that hospitals and clinics manage their on-site equipment. These new requirements can cause hospital administrators to spend more time and money to ensure that their medical equipment is properly maintained.
The age-old premise for creating a successful business model is known as "see a need, fill a need", and it is used across many different industries. It can also be used in this instance, providing medical equipment industry professionals with the opportunity to use custom stickers and labels, as well as interactive serial number tags and other tools to increase their usefulness with hospital administrators. It is possible to use UL stickers, instructional and safety plates, that are well designed and well placed to your advantage, giving you a leg up on the competition. Recording maintenance service dates and other essential information that administrators are required to provide can greatly increase the value of the services you provide.
What the New Regulations Require
It is important for anyone who works in the medical equipment industry to understand their customer base to learn how the services that they provide can be helpful to their target market. The new regulations require hospital administrators to overhaul all of their old maintenance plans to include more essential data, something that medical equipment service providers can help with through the use of barcode or QR code scan-able custom stickers and labels. Serial number tags and other well-designed UL stickers can also help service providers to assist administrators by making it easier for them to compile full inventories of hospital equipment and leased equipment on-site.
The new requirements also state that administrators must follow the manufacturer's recommendations to the letter, which can be beneficial to maintenance service providers and leasing companies that include maintenance services as part of the products they provide. Your attention to this type of detail and use of custom stickers and labels, as well as informative instructional and safety plates on the equipment itself, can make you a very valuable resource. Administrators are also charged with closely monitoring the credentials of those who maintain essential medical equipment, so providing your clients with current information that will help them maintain their records accurately and efficiently will be a real asset.
How Custom Stickers and Labels Can Help
You are probably already aware of many different ways that custom UL stickers can be used in the medical equipment industry. Whether you provide maintenance and repair services or you deliver leased and rented equipment to hospitals and clinics, it is important to use serial number tags to keep track of assets, repairs, warranties and other important data. Technicians can use handheld scanning devices to scan barcodes and QR codes to obtain additional information and ensure that records are kept accurately and up-to-date in real time. By collecting and recording this data, you can help your clients to be compliant with the new regulations, as well as any other regulations that get imposed in the future with regard to medical equipment maintenance.
As a result of these new regulations, more maintenance work will now be required, putting you and your medical equipment maintenance services or leasing business in a potentially beneficial situation to increase your contract work. Hospitals and clinics are now required to provide maintenance for all types of equipment, not just high-risk equipment that has a history of failures. Companies that are able to provide the increased services and increased accountability through the use of custom stickers and labels or serial number tags to keep track of assets, asset management and maintenance services, while helping administrators stay within their budgets, will be in a good position to become very valuable to their clients.
Where to Get Custom Stickers and Labels
If you are interested in learning more about how you can put instructional safety plates, UL stickers and other interactive products to work for you and your medical equipment industry business, give Nameplates For Industry (NFi) a call at 1-800-999-8900. Our team can walk you through the process of creating your own custom stickers and labels, as well as advise you of other products that clients who also work in your industry are using to their advantage. Call today and find out why more businesses across just about every industry in the nation trust Nameplates For Industry for all of their professional nameplates, stickers, tags, labels and decals.