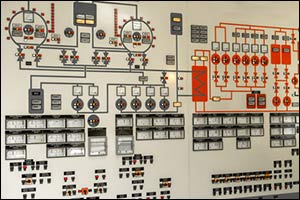 While we talk a lot about stickers and nameplates at Nameplates For Industry (NFi), we also work with our clients to design and produce custom faceplates and graphic overlays for a variety of purposes. While it might seem intimidating to design custom faceplates or create your own custom graphic overlays, it really isn't that much more complex than the work that goes into designing nameplates or stickers. Once you know what you need, you can then decide what you want. When you work with a reputable and experienced company like NFi, which has worked with clients to design millions of products across thousands of different industries, you know that you will be getting a quality finished product in return.
The Basics: What You Need to Know
Our team of designers and customer service agents will work with you to create the unique and functional product that you require, according to your specifications. From basic design and material options to die cutting and embossing to suit your needs, our custom faceplates and graphic overlays can be designed to work with switch assemblies, front panels, recessed moldings and other industry applications. Your design is printed on the subsurface of the product to ensure long-lasting durability and visibility, even under extreme conditions. The materials that we use to create a surface over the final product protect from scratches and other abrasions, chemical exposure and temperature variations.
Some of the industry uses for custom graphic overlays or unique design custom faceplates include panels for electronics and computers, as well as high and low-tech medical equipment, instrumentation for a variety of industries and appliances, both commercial and consumer use. Their durability makes them even ideal for use in HVAC equipment, including both air-conditioning and heating, whether indoors or outdoors. Our unique printing process and high quality materials that exceed the industry standards for thickness are what make these custom faceplates and graphic overlays stand out from other manufacturers in the industry. Customers can choose from a variety of unlimited colors and materials that range between .005" to .030" in thickness, as well as other options for backing plates and gauges.
Die Cutting and Embossing
With decades of experience behind us, NFi has the unique ability to manufacture a wide variety of custom printed products right here in the USA. As a result, we have a huge library of dies that we are able to offer to our clients to cut down design time and provide them with a selection of options in a variety of shapes and sizes. In addition, we can also create custom dies according to each client's specifications to create unique shapes, cutouts and holes for their custom faceplates and graphic overlays. While tighter tolerances can be made available for an additional cost, cutting tolerances of +/- .010" are standard at Nameplates For Industry.
In addition to custom die design and a wide array of pre-designed dies, we also offer a wide variety of embossing services to our clients. Our opportunity for custom die cutting and embossing gives our clients the tools that they need to create unique printed rigid products. Choose from rim embossing, pillow embossing and more complex embossing services and techniques. We utilize optically registered laser cutting to enable prototyping and fine precision for all of our close proximity cutouts, such as spacer guides. At NFi, our laser cutters even have the ability to cut custom shapes and sizes that would be impossible to achieve with a steel rule die, using typical tolerances of +/- .005".
More Options for Custom Design
In addition to the basic options available to our clients, we also have a wide variety of custom options that can be used when you design custom faceplates or custom graphic overlays. For example, deadfront graphics, which are designed to be backlit and not visible until they are lit are created using translucent inks with a white light source or colored LEDs. Our designers can help you to achieve your desired result, assisting you in choosing the best background for this purpose, which should be black or at least very dark. Other backlit graphics, which are also only visible when lit can be enhanced with the addition of urethane doming to provide a button-like feel. In addition, specific daytime and nighttime colors can also be used, for example in a vehicle console, where the graphics will light up differently when on than when they are off for enhanced function.
Nameplates For Industry has built a solid reputation for using quality materials and material thicknesses that exceed the industry standards. We offer our clients a wide range of materials and finishes to choose from to further customize the look and feel of the finished product. Our decision to exceed industry standards helps our products to be more durable and function longer than competing products. Our custom faceplates and graphic overlays can be created in a .005-.030 thickness Lexan polycarbonate for outdoor applications, a .003-.010 thickness Mylar polyester for extended flexibility and superior chemical resistance, or in a .006-.030 thickness scuff resistant vinyl also known as PVC.
Even our finishes are designed to enhance durability and protection when you design custom faceplates and custom graphic overlays. Choose from a glossy finish, which is designed for extra durability with a hard coating; matte, which is ideal for scratch resistant windows and keys with a very smooth and non-reflective hard coat finish; textured, which works to increase scratch resistance, diffuses digital displays and is non-reflective; brushed, which creates a look that is similar to anodized aluminum; or our Texturite, which is selectively textured to create non-distorting display windows or can be used to enhance the graphic appearance of the custom faceplates and graphic overlays.
Why Choose NFi for Your Industry Products
There are many reasons to choose NFi for your custom industry products. From our wide variety of options for die cutting and embossing to our many options for color, texture, style, shape, size and durability, our custom faceplates and graphic overlays are designed to stand up to the punishment of daily and extreme use. Our commitment to customer service is unmatched in the industry, and our team of designers and customer service agents will be happy to work with you to design custom faceplates and custom graphic overlays to suit your unique needs and requirements. Give us a call today at 1-800-999-8900 to learn more about our products or to start the design process.