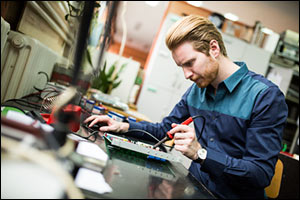 When it comes to choosing industry labels that will help you to improve the way that you do business, while also serving as a method of branding your service to customers, it is important to work with a professional company with a proven track record for success. Nameplates For Industry (NFi) has been designing, creating and delivering top quality custom stickers and labels to clients all over the world since 1975. Our team of experienced and knowledgeable technicians, customer service agents and industry leading equipment, tools and software help us to provide the very best to each and every customer.
From labels and nameplates to barcode stickers and decals, we have a wide variety of options available to help meet the unique needs and requirements of each client on a case by case basis. Choose from a variety of sizes, shapes, colors, textures, materials and interactive functions to get the results you desire. While nameplates are our namesake, we have built a strong reputation throughout North America and around the globe for our top quality products and leadership within the industry. Our self laminating labels are one of our best sellers and provide our customers with the ability to write-in custom information and protect it for long-term benefits.
What Are Self Laminating Labels?
Similar to other types of custom stickers and labels that we create for our clients, self laminating labels have the ability to be customized to suit the needs of the customer. However, they can be taken a step further in that they are designed to be written on to provide the means of recording information for service oriented businesses. Date coding, warranty tracking, retaining and displaying calibration data, serial number recording and other essential details can be easily recorded, sealed and protected through the self laminating system created by NFi.
Our specialized NFi Capturite Self Laminating Labels can be designed and printed on either a white or silver base material to allow for easy recording of information and data. This hand written option allows service providers to record data in the field and seal it permanently under a clear, yet protective Mylar laminate layer. Many different businesses have taken advantage of these unique industry labels, which can be printed using multiple colors and a variety of 3M adhesives that can be used on a wide range of substrates - including powder coated finishes and LSE plastics - for long-lasting performance and durability.
What Are the Options Available?
Compared to the cost of metal nameplates and other materials, these popular NFi Capturite Self Laminating Labels are resistant to chemicals. Like our other custom stickers and labels, the client can choose from a wide range of sizes, according to their unique needs. Sizes can be anywhere from one inch square on up to a four inch by six inch label. This allows our clients to create product specific or use specific industry labels that can be as visible or as inconspicuous as they need them to be.
In addition to our other lines of customized barcode stickers and labels, serial numbers can be displayed on these self laminating labels. However, the advantage here is that they can be recorded and displayed on a case by case basis rather than printed ahead of time in a small or large batch, giving the business owner or technician more freedom to create customized recordings. All of our NFi Capturite Self Laminating Labels are priced according to the substrate, as well as the size of the labels and the quantity of the order. We are please to provide our clients with free samples and custom price quotations upon request.
How Are Self Laminating Labels Used?
If you have ever used custom barcode stickers and decals or other types of industry labels, you are aware that they can be used according to your needs and in just about any way that you could need them to be used. By offering a variety of aggressive adhesive options, we help our clients to create custom stickers and labels that can be used indoors or outdoors, in fair or stormy weather, near chemical or direct UV exposure - wherever they are needed.
Some of the ways that self laminating labels are used include:
safety information
inspection details and recordings
lot traceability
specific formulas (paint, stain, etc.)
voltage requirements
date of manufacture
date of purchase
date of service
calibration data
serial numbers
Depending on the industry that you work in - and the type of work that you do - chances are your use of self laminating labels will be different from that of our other clients. Industry labels are designed to work hard for business owners, service providers and other professionals. Choose from any of our offerings of custom stickers and labels, nameplates, self laminating labels, barcode stickers and labels or other use-specific products as tools to help you advance the quality of the services you provide to your customers.
For more information about Nameplates For Industry or any of the products that we provide, please give us a call at 1-800-999-8900 and speak with one of our friendly and helpful customer service agents. We can help you find the products that will work best to serve your needs.