Showcase your logo: BE BOLD!
When it comes to your brand, don't be shy. Why buy flat 2D labels when you can buy 3D custom domed labels?
There's no doubt about it, domed branding labels will make your logo POP! Our 3D custom domed labels are the #1 choice of major manufacturers around the world. Why? Because the cured polyurethane coating makes every logo POP with a bright, glossy look and enticingly tactile feel.
Check out this 1-minute video showing 3D custom domed labels in action!
Do you currently feature a small, standard logo sticker for products? Imagine showcasing your logo with a very large, vibrant 3D custom domed label. Here's an example: One of our customers manufactures commercial-grade espresso machines, which were about to be placed in thousands of coffee shops around the nation. To create brand recognition, they placed a very large domed logo label (5x18 inches) on every machine. Vibrant and eye-catching, this marketing label strategy accomplished the goal.
Our 3D custom domed labels are surprisingly affordable – and NOW competitively priced with paper labels.
All production steps for your domed labels are done in-house at NFI Corp's headquarters. Every time we streamline a process – such as creating 3D custom domed labels – our customers win. That means, if you're looking for standard-size labels, you can showcase your logo with the attention-getting look of 3D custom domed labels for just about the same price as flat 2D labels.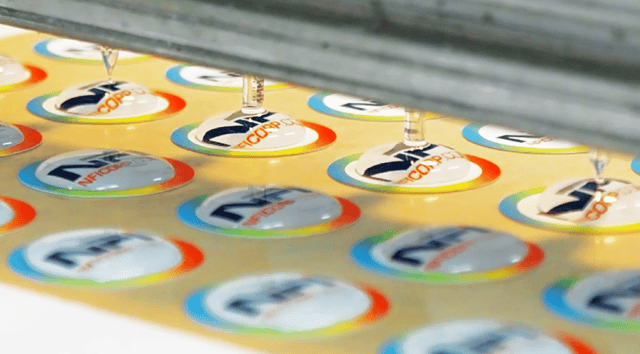 The choice for long-lasting labels: Non-yellowing and certified for outdoor use.
Suitable for all industries, NFI Corp's 3D custom logo labels are engineered for durability. Your logo will sport a high-end look for years whether your product is indoors or outdoors.
The doming urethane of our 3D labels is outdoor grade, weatherproof, non-yellowing, and certified for outdoor use.
The permanent, custom-engineered adhesive ensures your labels will stick to any surface.
The durable construction meets Society of Automotive Engineers specifications.
"Self-healing" 3D custom domed stickers are abrasion resistant (the surface will "heal" itself from dents and dings).
Looking for domed labels for your next project?