REFERENCE GUIDE
How to choose the right color window for your graphic overlay with colored LCD/LED display
Get the look you want with the usability and durability you need.
For your product to function appropriately, your LCD/LED display must clearly communicate information to the end user. This user-interface requirement is a non-negotiable. Whether your LCD/LED display is integrated into HVAC equipment, security/alarm systems, medical equipment or another product, it's critical to ensure your graphic overlay with colored LCD/LED display offers the clarity, usability, and durability you need.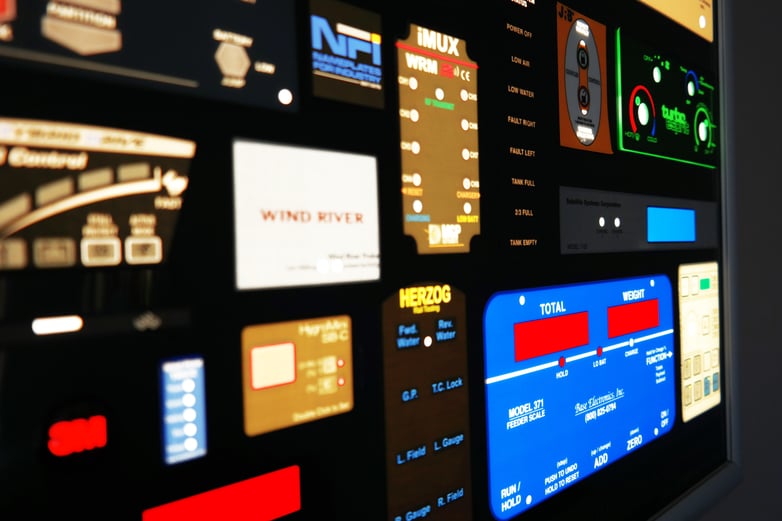 Need a graphic overlay with colored LCD/LED display? Keep this reference guide handy!
Here are some questions to consider when selecting a colored window for your product's LCD/LED display – and when you order a prototype for your graphic overlay:
When selecting colors, where do you start? When choosing your colored window, consider your brand colors, the colors of the product's graphic overlay and keypad, the environment it will be used in, and how the end user will see and use the information to be displayed. Ultimately, the window color must offer optimum clarity.
What are commonly used colors for the best look and best usability? Traditional glossy or matte clear windows are popular, along with smoke gray. Red, green, and blue transparent windows are also frequently selected. Plus, today's digital print options allow for various levels of translucent color.
For best user-interface, do you need window materials that are non-reflective, non-distorting, and scratch-resistant? – A variety of materials and finishes are available to meet your needs. For example, glossy window materials with a hardcoating offer extra durability. A matte, smooth, non-reflective finish provides a scratch-resistant window.
Will the digital display need diffusion? If so, select a base material (e.g., velvet or matte) that will act as a diffuser. If glossy material is required for appearance or functionality, an adhesive placed behind the window will help to diffuse the light.
Do you need to cover a single-point LED? At NFI Corp, we can selectively texture the graphic overlay using Texturite® to cover the single-point LED. Our innovative Texturite® process is a selective textured finish that creates non-distorting display windows.
Looking for cost-saving ideas? Here's one idea: Choose color LEDs for the display or choose the more affordable white LEDs paired with a colored window for your graphic overlay. Thanks to our leading-edge digital print technology, NFI Corp can create any color and still achieve a brilliant display.
We'll help you meet usability requirements with innovative solutions.
At the end of the day, your graphic overlay with colored LCD/LED display must meet your user-interface requirements. Plus, you want to be innovative (as appropriate), yet the choices can be overwhelming. You need guidance, and we're here to help!
We encourage you to call NFI Corp's Design Studio – our in-house team of engineering-based designers. This is the place where DESIGN meets ENGINEERING. These specialists will help you clarify your product's exact requirements, suggest the right materials, and offer ideas for enhanced innovation.
Get started on your graphic overlay prototype and get free samples:
Call us at (800) 999-8900 to get a quote. Our customer service reps are available Monday through Friday, 8:00 am to 5:00 pm Eastern.