Take advantage of NFI Corp's Design Studio: an experienced team of engineering-based designers.
Do you have a new product on the drawing board? Perhaps you're planning to manufacture a new bezel or chassis that will require a custom industrial label, nameplate, or faceplate. Or perhaps you're designing an electronic product such as a breakthrough medical device that will require a custom membrane switch.

If you have a product concept on the drawing board, NOW is the time to call NFI Corp's Design Studio.
Steve Moniz, NFI Design Studio Director, encourages you to call our Design Studio early in your product-development process. "Bring us into the conversation as early as possible – even if you only have a raw concept for your design," Steve says. "We can help ensure your final product gets off the ground on time."
Steve adds: "We know precision and functionality are critical for your custom industrial label, nameplate, faceplate, or membrane switch. Your graphic solution must work within printing parameters, integrate perfectly with your manufactured product, and meet appropriate industry standards. Of course, we'll create a great-looking design too. In the design world, this is called Form and Function."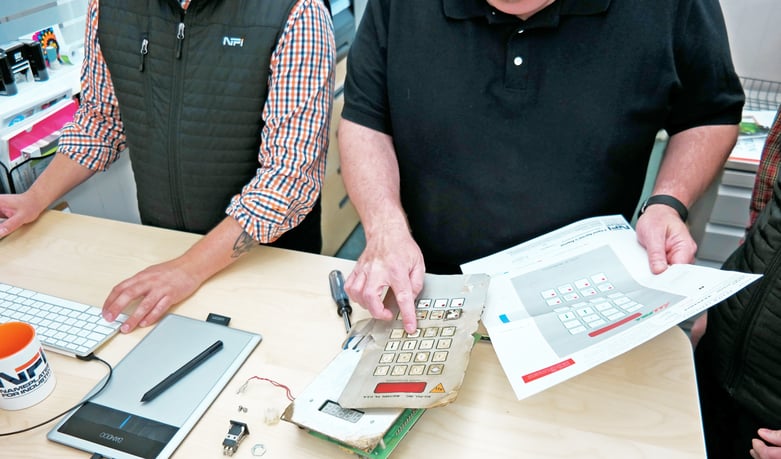 Let's start by discussing your product concept and specific engineering considerations.
Will your product feature a switchplate, keypad, or display screen? Engineering considerations such as these significantly impact the graphic solutions typically added in final manufacturing stages. But don't wait until your new product reaches final stages before calling us! When you consult with us early in the process, we can guide you in the right direction to ensure everything works effortlessly. For example, we'll ensure your membrane switches feature good usability and ease-of-use for your customers.
Next, let's brainstorm design ideas to ensure it's attractive and meets industry standards.
No matter the graphic solution you need – custom industrial labels, nameplates, faceplates, or membrane switches – NFI Corp's Design Studio will create an attractive, sleek, up-to-date design. Here's an idea: Bring us your current products with tired, out-of-date designs and we'll create attention-getting designs that breathe new life into your brand.
Plus, we'll ensure your graphic solution meets applicable industry standards including:
S. Department of State's International Traffic in Arms Regulations (ITAR)
We'll discuss the product's "environment" and material choices for durability.
Will your product be used outdoors? Submerged in salt water? Exposed to harsh cleansers? NFI Corp offers a wide range of material choices to ensure long-lasting performance of your:
NFI Corp's Design Studio is a substantial design AND engineering resource.
We're here to help! Call us at (800) 999-8900 and ask for the Design Studio. We're available Monday through Friday, 8:00 am to 5:00 pm Eastern.
Complete the form below to tell us about your project, and we'll get in touch with you.