Die Cut vs Laser Cut?
What's the difference between these techniques? What's the most cost effective? What's the right solution for your application? All very important questions! The answer depends on the shape and materials of your custom label, faceplate, nameplate, or graphic overlay.
To begin, here's a brief overview of the 2 techniques:
Die Cutting

uses a stamping method to cut multiple pieces at one time. The design is usually fairly simple, such as a rectangle with rounded edges. An important consideration is that die cutting requires the creation of a steel die. Extremely sharp, dies can last for thousands of impressions before needing to be replaced. Here at

NFI Corp

., we have an exceptional library of dies in a wide variety of shape and sizes. We can also create custom dies to meet your specifications for shapes, cutouts, and holes. Standard cutting tolerances are +/- .010″.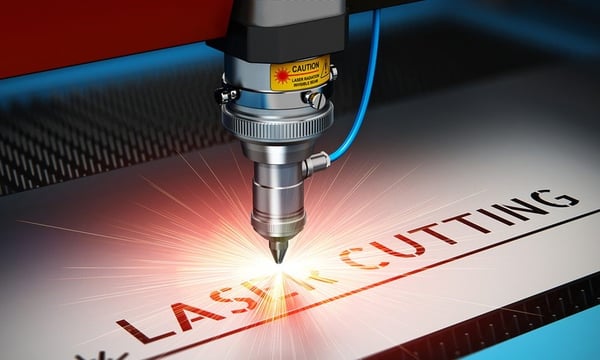 Laser Cutting

offers the ability to cut virtually any pattern imaginable with incredible accuracy – intricate shapes and custom sizes that would be impossible to achieve using a steel die. Optically registered, high-speed Laser Cutting offers fine precision for close-proximity cutouts, such as spacer guides. Here at

NFI Corp., our state-of-the-art Laser Cutting equipment creates intricate designs and windows for customers' dials, scales, faceplates, graphic overlays, backplates, plastic cards tags, templates, insulators, shielding, spacers, shims, and gaskets. Laser Cutting is ideal for prototypes and short runs since each piece is cut individually. Typical tolerances are +/-.005″.
We believe knowledge is power…
Learning about different solutions means you can make better decisions for your project. That's why we've created this at-a-glance "Die Cut vs. Laser Cut Comparison Chart" for you.
Die Cut vs. Laser Cut Comparison Chart

Which is best for YOUR project?

Project considerations

Die Cut

Laser Cut

Offers a high degree of accuracy

X

X

Works with a wide variety of materials

X

X

Best for long runs

X

Best for short runs especially prototypes, quick-turn projects, and fast-to-market projects

X

Tooling is required

X

No tooling is required

X

Best for intricate patterns, complex shapes, and through holes

X

Instant verification of test cuts

X

Flexibility – can be continuously readjusted for accuracy, size and shapes

X

The cost-effective solution for basic patterns and/or long runs, especially if an existing die in our library meets your needs

X

The practical choice for projects with highly intricate patterns and/or short runs

X
Do you have a project that needs a Die Cut or Laser Cut?
Click below to request FREE SAMPLES of recent NFI Corp projects.