What types of durable barcode labels are used in the Medical industry?
The need for ACCURACY and DURABILITY permeates every facet of the Medical industry –
after all, lives depend on it.
That's why the Medical industry has embraced such a wide variety of durable barcode labels. Our customers in the Medical field – buyers for hospitals, pharmacies, and laboratories as well as engineering teams that manufacture clinical and diagnostic devices
2D barcode labels – Thanks to their use of rectangles, dots, hexagons, and other geometric patterns, 2D barcode labels can capture and represent vastly more information than 1D barcodes (the original barcode style with parallel lines of varying widths).
QR code labels – Elizabeth Barrett Browning penned: "How do I love thee? Let me count the ways." Well, we love QR codes in more ways than we can count, and so do our customers! The Medical industry uses QR code labels in a dizzying number of applications from marketing to patient education. Click to read examples that will spark your OWN ideas. Soon, you'll love QR code labels too!
DataMatrix labels (aka GS1, UID, UDI) – We often receive inquiries about DataMatrix labels from companies around the world. They are technically limited with other label printing companies that don't have the ability to create and print DataMatrix barcodes that precisely meet GS1 and ISO standards. We pride ourselves in overcoming any technical challenges when meeting compliance standards. Click here you to read a case study, illustrating one example of how we did this!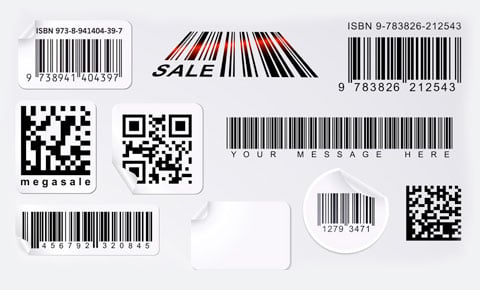 Durability makes all the difference.
Barcode labels in the Medical field must stand up to all types of severe environments. Why? Because the data contained MUST be protected. When you think about it, Medical environments can be surprisingly injurious:
Gurneys take abuse during patient transport.
ICU room temperatures vary from cold to warm.
Sterile labs and surgical environments use harsh cleansers.
Monitoring equipment is regularly moved throughout the facility.
Expensive diagnostic equipment requires tamper-proof barcode labels.
click HERE to read ideas for using durable barcode labels in your facility. As a bonus, you get FAQs to answer your questions about getting started with 2D barcode labels, QR code labels, and DataMatrix labels.