Protect your assets from burglars!
Whether your business is large or small, it's important to track and protect your products.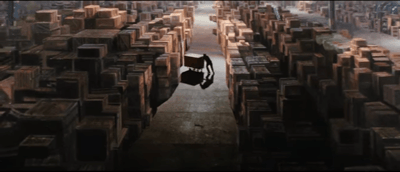 Remember the warehouse scene from Raiders of the Lost Ark? When you think of custom inventory tags and bar code labels, you might envision a vast warehouse with sky-high shelves or endless crates. If you're a large business needing inventory labels for a global supply chain – manufacturing, warehousing, and shipping – then NFI Corp is here to help you.
Or do you run a small business? If so, it's incredibly important to track product inventory as well as manage physical assets – while discouraging theft. It's easy with NFI Corp's custom inventory tags and barcode labels. Your company's critical assets may include:
vehicles
laptops/tablets
handheld electronic devices
furniture and office equipment
tools and manufacturing equipment
Need short run or long run? Barcodes or QR codes?
Large or small, your business has unique needs. Our technical experts offer guidance with:
Static or unlimited variable data including barcodes, QR codes, serial numbers, or model numbers
UL® Labels and CSA, CE and RU certification labels (NFI Corp is a UL-approved label supplier)
The exciting link technology with invisible QR codes
Imprintable or Capturite® (self-laminating) labels for DIY serial numbering
Nearly unlimited design and adhesive flexibility to meet your specific needs
Unlimited variable designs with Mosaic: The Unlimited Design Generator
Short-run and long-run projects
Which option fits your specific needs?
Take a moment to review NFI Corp's Quick Reference Chart, below. This guide will help you determine the custom inventory tags and barcode label that best supports your application.
Quick Reference Chart:
3 Types of Custom Inventory Tags & Barcode Labels
Durable plastic decals to track products and property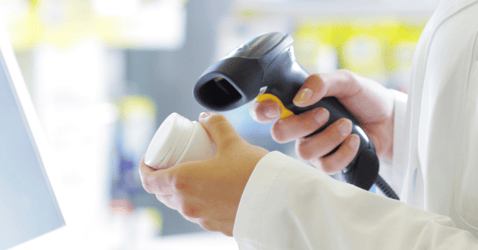 Applications include:
· Product tracking, inventory control, asset management, warehousing, shipping
· Include model numbers, serial numbers, static or variable data, QR codes, or barcodes
Features & options:
· Cost-effective
· Abrasion and chemical resistant
· Custom-engineered, permanent adhesives
· High-performing durability
· Weatherproof; appropriate for indoor and outdoor use
· Peel tabs for easy application
· Imprintable or Capturite® (self-laminating) labels to handwrite serial numbers, dates, etc.
Metal asset tags to withstand extreme environments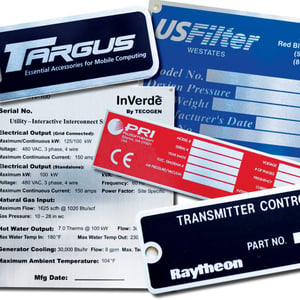 Applications for metal asset tags and nameplates include:
· Aircraft
· Boats and watercrafts (saltwater immersion)
· Trucks & other vehicles
· Construction tools & equipment
· Military materiel
· HVAC equipment
Features & options:
Aluminum, brass, plated alloys, stainless steel
· Anodized, etched, printed or sealed photo-metal
· Thickness range up to .125″
· Adhesive for permanent application
· Adherence customization: U.S. military specifications MIL-P-19834 or MIL-P-15024
· Cutouts/holes for exceptional durability (can be riveted or screwed to surfaces)
· Etched or stamped serial numbers and barcodes, QR codes, etc.
Tamper evident and tamper proof labels to discourage theft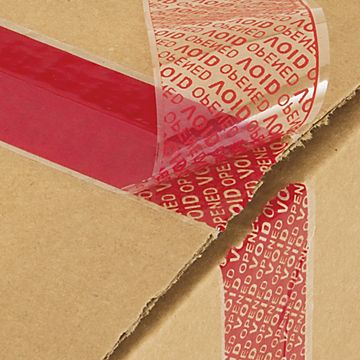 Applications include:
· Prevent theft of physical assets
· Warranty and repair control (ensure consumers don't inappropriately meddle with components)
· Compliance for medical devices, etc
· Asset management
· Product tracking
· Inventory control
· Warehousing
· Shipping
Features & options:
1. Tamper-evident labels (often referred to as tamper proof or tamper resistant labels) are constructed with durable Mylar®. The front of the label warns "Void if removed." When someone tries to lift off this label, the message underneath says "VOID" or shows a pattern.
2. Destructible vinyl labels (often referred to as indestructible labels) disintegrate into tiny pieces when someone tries to remove them, which can prevent theft. This type of sticker shows clear evidence of being disturbed. Destructible vinyl labels cannot be reused or reapplied to other assets.
Get a prototype of your custom inventory tags and barcode labels
NFI Corp's Prototype Program offers rapid product development with guaranteed fast turnaround. You'll be able to test the form, fit, and function in just days.
Our Prototype Program features:
Individualized support from our skilled design and pre-press team
Rapid development (3-5 day delivery)
Small quantity production (10 pieces)
Testing without the costs of full production or tooling
Whether large or small, your company needs to track and protect products and property.
Rely on our technical expertise to get the custom inventory tags and barcode labels that best fit your specific needs.