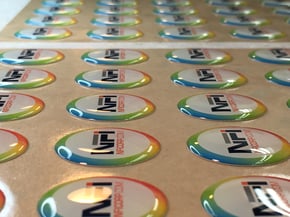 Our world never stops growing. As we change as individuals, we change our society, and it in turn changes other societies across the globe. Our organization matches and predicts these changes, and continuously adjusts with innovative ideas to best suite any growing business.
So Who Are We?
If you hadn't already heard of us, an introduction was long overdue! We are Nameplates For Industry (NFI), the global leader in best performing printed graphic solutions. That isn't just a personal boast, either. As actively involved members of Specialty Graphic Imaging Association (SGIA) and The Graphic & Product Identification Manufacturer's Association (GPI), we've won our fair share of awards for quality and performance. We came about in the mid '70s as a small manufacturing company before building a positive reputation and expanding to global proportions by the late '80s. Now we continue to use our craft to provide the best designs to fellow businesses set on changing the world.
How Can We Change the World?
For example, one of our most influential prints has been tamper resistant labels. The uses are extremely versatile, ranging from tracking inventory to creating a seal to prevent equipment tampering. These are specially manufactured in two distinct styles: tamper evident labels and destructible vinyl labels. The tamper evident labels specifically says that your product, the warranty, or other format is void if this sticker is removed. Even if the sticker is attempted to be removed, a checker pattern or the word 'VOID' will clearly be displayed so there is no confusion. Destructible vinyl labels break apart into dozens of tiny pieces when removal is attempted. This makes it clear when the sticker has been tampered with and makes it impossible to reuse or reapply the sticker to any other product. Another practical development from the engineers of NFI is custom product decals. Not only are your designs at the forefront of this plastic label, but our industrial style decals are guaranteed to outlast those from any other company. Perfect for indoor or outdoor use, these decals are built to be durable enough to withstand the test of time!
We Offer Solutions for All Types of Situations
Ultimately, there isn't a design we can't create or a label problem we can't find a solution to. Our straight-forward 'Design-to-Delivery' system enables each client to receive their needed assets in a timely manner. For the initial step, we utilize the talented and creative in-house designers to completely outline your ideas for the packaging and usage. Once the design is approved, we work hard printing, testing, and ensuring that you are satisfied with the final product.
We highly encourage everyone to take advantage of our prototype program, which allows you to receive a small quantity of the product within 3 to 5 days. This allows you to personally check that the material, color, dimensions, and other details are the way you intended. If concerns do arise at any stage of the process, we have a wonderful team of customer service representatives that are available to you with any concerns you may have. For more details or to start your print journey today, reach out to us via our website.