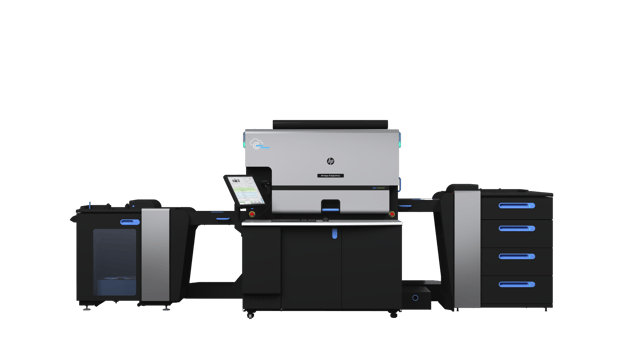 The holidays arrived early here at NFI Corp., as we just installed a brand new, cutting-edge technology that revolutionizes what's possible. It has always been our goal to put our customers first and we believe this strategic investment does just that.
We've added another HP Indigo to our family of Digital Presses; the HP Indigo 7K Digital Press is the newest member. Adding another digital press not only adds endless opportunities for our Company and customers, but it also boosts our technology roster's ante!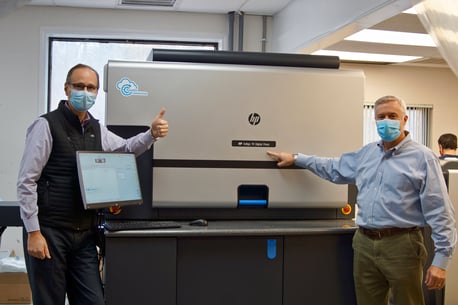 *Renaud Megard, CEO, NFI and Keith Perkins, Commercial Account Manager, Graphic Solutions Business North America Sales at HP Inc.
The press is truly cutting-edge. With endless applications and record-breaking speeds, the range of possibilities is as wide as the mind can imagine. As a custom printer, NFI Corp. has always offered both small and large volume order quantities. Our HP Indigo Digital Presses ensure best-in-class color matching – and thus, access to millions of color combinations - and high volume runs in turn, leaving us perfectly suited for jobs of all sizes and complexities. We believe it is our job to help our customers stand out and with over 20 specialty inks like silver which may be used for Braille, invisible yellow, scratch off, fluorescents, and many more, we've opened up limitless possibilities.
The quality of the 7K Press is unrivaled. It allows our customers to interact with their markets through their products in ways they've perhaps imagined but haven't been able to execute. Our partnership with HP and the integration of this technology, coupled with our relationships with our customers is going to result in true innovation across all industries.
The 7,300-pound press operates fast. The machine can cycle up to 5 million pages per month. To break that down, it operates at 120 to 240 pages per minute. The industrial-sized press provides one-shot technology; all color separations are transferred simultaneously in a single pass for accurate and repeatable color-to-color registration, even on heat-sensitive materials. In addition, the HP Indigo 7K is manufactured carbon neutral for reduced production waste and energy efficiency.
With this brand-new piece of equipment in our toolbox we are well armed no matter what size the task. Growing our capabilities by expanding our HP Digital Indigo Press family was a forward-thinking decision by our CEO, Renaud Megard. Yes, with multiple machines we can produce countless orders simultaneously, but we're also well equipped to easily match colors across HP Indigo presses.
Key Benefits:
Significantly faster speeds

Heavy-duty output

Large image size for increased production

Wide range media capabilities while maintaining speed integrity

Rapid ink replacement that prevents any lapse in production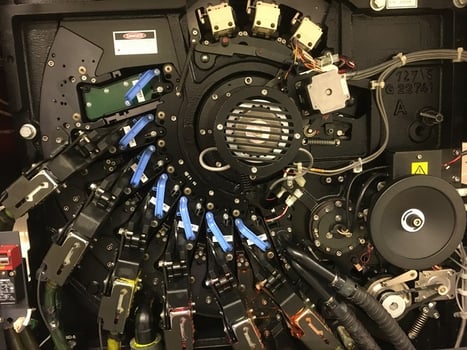 Adding the HP Indigo 7K to our comprehensive line of digital printing offerings, a digital press lauded as an industry benchmark in label and packaging production, positions us to maintain our spot as the global leader in printed graphic solutions. NFI Corp is, as we always are, putting our customers at the forefront by being the very first in New England and third in the United States to acquire this technology; we're thrilled to add it to our lineup.