You Can't Touch This. Wait, Yes You Can!
Tactile Custom Domed Logo Labels Are Irresistible.
Remember when you were a little kid? Remember being told not to touch stuff?
"Don't touch the hot stove."
"Don't touch the dog while he's eating."
"Don't touch Grandma's snow-globe collection."
Here's Something You CAN Touch: Our 3D Domed Labels are Irresistibly Touchable.
Custom domed logo labels look great and attract attention. You can't resist touching them – and that's ok! With our high-performing, scratch-proof domed label, you can touch them and clean them as much as you like. In fact, our domed labels are manufactured to survive – and thrive – in challenging outdoor environments, in medical and technical environments that use abrasive cleansers and chemicals, and in all kinds of punishing situations. Here are 3 reasons why you'll want custom domed logo labels from NFI Corp.
#1. It's a whole new dimension: No one can resist touching this 3D label.
It's been said that birds are attracted to bright, shiny objects. Well, who isn't?! Custom domed logo labels reflect light, are dimensional, and make bright colors shine even brighter. Choose a domed label for your company logo, and it will positively gleam! Domed labels enhance your brand and, thanks to the tactile quality, your customers can't resist touching them! Choose 3D domed decals to enhance the "look and feel" of your product, equipment, or machinery.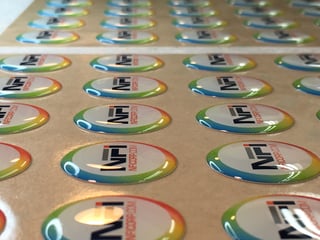 #2. Rub-a-dub-dub: Rub and scratch all you want, you'll love the durability.
Do you need labels to withstand challenging environments – while ensuring your company logo stands out? Our custom domed logo labels are scratch-proof, resistant to weather and water, and resistant to chemicals and industrial abrasives. In fact, they're so tough, they "heal" themselves. Rated for indoor/outdoor use, NFI Corp.'s domed labels are perfect for "tough-use" products:
Recreational and industrial vehicles and watercraft
Industrial equipment and machinery
HVAC equipment and electrical boxes
Medical equipment and technology
Sports gear, pool equipment, and recreational equipment
Kitchenware and much more!
#3. You'll be in good company: Global corporations use domed labels to showcase their logos.
Take a page from the playbook of large, international corporations: Use custom domed logo labels to add the WOW factor to your brand! Domed labels give your product a high-end, classy look. This makes them the go-to choice to adorn your product with your company logo. Plus, they're so eye-catching (and tactile) they're an excellent choice to use in all kinds of creative promotional and marketing campaigns.
Click HERE to Get a Free Sample Packet of Domed Labels.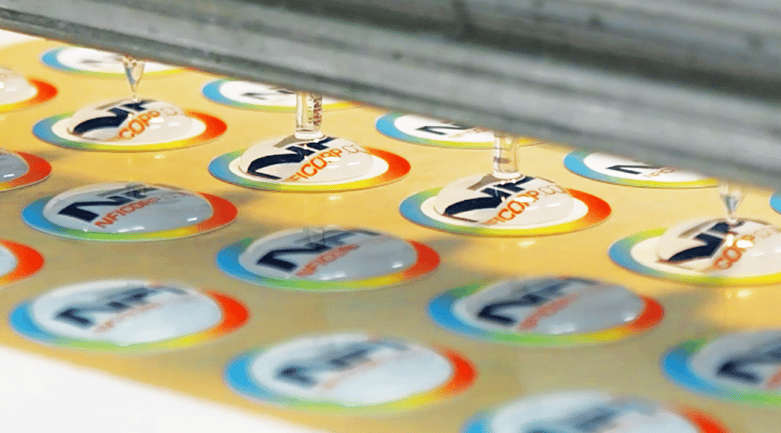 You'll See for Yourself – You Can't Resist Touching Them!
We're happy to send you a FREE packet of custom domed logo labels. Plus, you can select our Full Product Sample Packet for a comprehensive view of NFI Corp.'s product offerings.