When you order UL labels and other certification labels from NFI Corp. – a UL approved label supplier – you know your verified labels will meet all standards required by the UL benchmarks and guidelines.
In fact, manufacturing companies in North America rely on us for UL labels thanks to our high quality, attention to detail, and quick turnaround. Our fast turn-time is due, in part, to our somewhat unique ability to offer approved Digital UL construction. NFI Corp.'s accreditation offers 2 key benefits:
Get UL labels with variable data– We are accredited to print UL-certified labels with variable data, which can include barcodes, QR codes, UPC codes, serial numbers, consecutive numbering, expiration dates, etc. Variable data labels are essential for asset tracking, inventory control, security, compliance, warranties, and repair control.
Enjoy the many benefits of digital printing– One word best describes our advanced digital printing capabilities: FAST. With our accredited Digital UL construction, your UL labels experience a fast lead time, fast printing process, fast drying time, and fast turn-time. Other benefits of digital printing include reduced cost, nearly unlimited design flexibility, ability to print short-run and long-run label projects, and fully RoHS compliant.
Let's talk about your product. Is it electrical or mechanical? Does it require plumbing or gas? If so, you probably know the Underwriters Laboratories must test and inspect US products to ensure safety in living and work environments.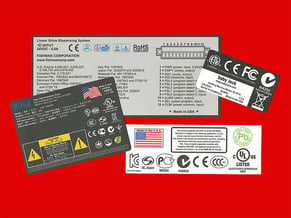 Did you know that UL labels must be tested and certified? At NFI Corp., we provide quality UL labels to our customers in the US and Canada. These labels have been tested and certified to meet the UL's stringent standards – just like your products.


You may be surprised to learn that not every printing company can create UL labels. For example, for UL labels, the printer must be registered with the UL Authorized Label Suppliers Program. NFI Corp. is an Authorized Printer of UL labels and stickers, which includes authorized use of all registered certification marks.

If you're a manager, engineer or purchasing agent in charge of selecting a vendor – then teaming with that vendor to design, order, and apply UL labels – is key. A quality label from a service-minded company like NFI Corp. means piece of mind.

Manufacturers of medical equipment and technology require UL labels for the products they supply to hospitals, operating rooms, clinics, and laboratories. As with other industries, labels applied to medical equipment often must endure harsh environmental conditions, withstand maintenance and cleaning, and tolerate exposure to chemical solutions. Plus, labels must meet federal regulations and safety requirements.


You can order UL labels from NFI Corp. that are waterproof, contain serial numbers and QR codes, are manufactured with subsurface printing and/or aggressive adhesive and offer extreme durability in all sorts of temperature ranges and climates.

What Kind of UL Label or Certification Sticker Do You Need?
With years of experience manufacturing high performing, durable labels for companies around the world, NFI Corp is your reliable source for all types of certification labels:
UL approved labels including all types of UL recognized component marks: UL 969 compliant labels, UL hologram labels, UL 94 stickers, Category PGDQ2, Type L UL Marks, Type R UL Marks, PGJI2 Labels
CE labels and CE stickers
CSA labels
CSA stickers
RU labels

With NFI Corp's Prototype Program, you get rapid product development with a guaranteed fast turnaround:

• Rapid development (3-5 day delivery)
• Small quantity production (10 pieces)
• Testing without the costs of full production or tooling

With our recent accreditation to print UL certification labels with variable data and our digital printing capabilities, you can trust us to meet all UL benchmarks, while providing a high-performing, affordable label for your product.

When you order UL labels and other certification labels from NFI Corp. – a UL approved label supplier – you know your verified labels will meet all standards required by the UL benchmarks and guidelines.
Contact our skilled team of engineers today!